September 29 (Cohort A) and September 30 (Cohort B) – Orange Shirt Day – Students are encourage to wear an orange shirt with their uniform bottoms, or an orange accessory, to show support for and solidarity with First Nations, Metis and Inuit children who experienced residential schools. More information can be found on our website HERE
September 30 – Father Dave, pastor of Holy Cross Parish will be leading us in prayer for CtK's opening school year virtual Liturgy. All classes will participate virtually during period 2.
Please see below the instructional schedule for the week of September 28 – October 2.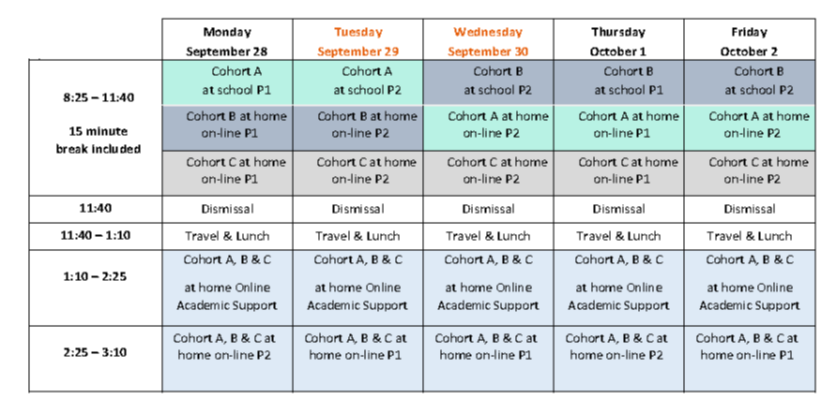 Looking Ahead:
October 6 – Catholic School Council Meeting – please click HERE for more information.
October 7 and 8 – Spirit Civvies Day – students are encouraged to wear their Jag Swag! Student are reminded of the dress code guidelines for non-uniform days and events. These can be found HERE (bottom post).
October 22 – AP (Advance Placement) Information Night – more information coming soon.
October 29 – Grade 8 Parent Information Night – This virtual event will begin at 6:30 pm. More details will follow soon. Keep checking our website!
November 2, 3, 5, 6 – Student Photo Days – details coming soon.
November 22 – Feast Day of Christ the King – the school community will observe this day on Monday November 23.