Holy Trinity CSS Received Gold EcoSchools Certification in 2018-2019!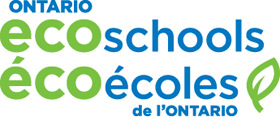 Ontario EcoSchools is an environmental education and certification program (from Kindergarten to Grade 12) that encourages our school community to develop our ecological literacy and reduce our environmental footprint.
The key areas of focus are: Teamwork & Leadership, Energy Conservation, Waste Minimization, School Ground Greening, Curriculum, and Environmental Stewardship. 
Through this program, our students and staff participate in environmental education and practices, developing the knowledge, skills, perspectives, and actions needed to be environmentally responsible citizens.
For more information, please visit: https://www.ontarioecoschools.org/
Energy Conservation & Environmental Stewardship