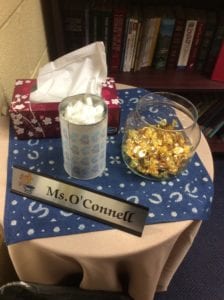 My name is Marie O'Connell and I am happy to be Chaplain of Holy Trinity High School.
My office is on the second floor next to our beautiful Chapel. Stop by for a chat or a piece of candy.
As Chaplain, I am a pastoral resource for all staff and students – no matter their faith background. Through prayer experiences, retreats, social justice initiatives, Masses and liturgies we begin to see where our faith and every day life intersect and where they challenge us to be better and do better. God calls each of us to use our gifts and talents to make our school, our community and the world more loving, more inclusive, more welcoming. Each and everyone of us has something to offer and is deserving of respect and to be treated with dignity.
Every child, every person needs to know that they are a source of joy; every child, every person needs to be celebrated. -Jean Vanier, Becoming Human