If you are beginning your search into universities, here are great links to blogs.  Topics include, Choosing The Right University For You, Saving Up For The Future, How To Get Into Queen's Commerce At The Smith School of Business etc. 
What do I need to graduate? 
News
*****************************************
Grade 12 Assembly Presentation 2020-2021
*****************************************
Completion of 30 (new) credits (including 18 compulsory and 12 elective courses)
Passing grade 75% + on the Grade 10 Literacy Test
Completion of 40 hours of community service by April 30, 2021 (forms are found on our website). Your Guidance Counsellor must approve your placement prior to completing hours.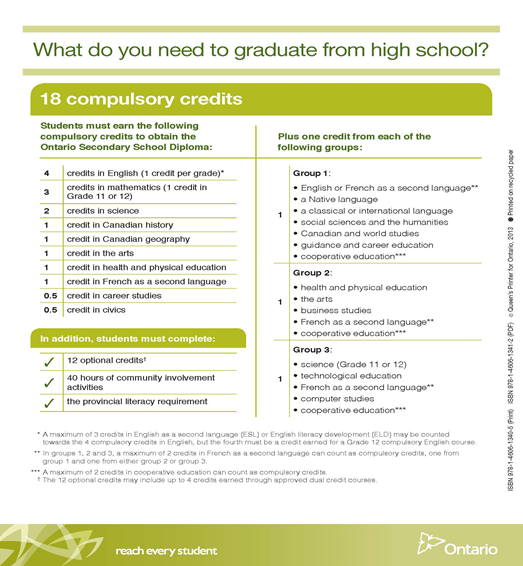 If you would like to schedule an appointment with your guidance counsellor, please email Mrs. Grafton at graftonj@hcdsb.org
Other Important Information
Post-Secondary virtual tours for Colleges and Universities across Canada
Are you interested in taking a Virtual Campus Tour? You can now visit the below link and tour Colleges and Universities across Canada.
If interested, click on the link.
Ontario University and Ontario College Information
If you are interested in an Ontario College or University and would like to learn more about programs, and admission requirements, please visit the following links.
University Information: www.ontariouniversitiesinfo.ca
College Information: www.ontariocolleges.ca
These websites will provide you with valuable information on programs, tuition costs, scholarships, contact information, program requirements and much more.
University and College Application DEADLINES

Ontario University Applications
DUE: January 15, 2021 visit www.ouac.on.ca

(Students who are eligible to apply will receive a PIN and a PASSWORD. Students will be notified on how PINs and Passwords will be distributed in early November).
Ontario College Applications
DUE: February 1, 2021 visit www.ontariocolleges.ca
(Students do not need a PIN or a Password to apply. Students create their own account and create their own password).
Marks Uploads:
****Marks are uploaded automatically from the Board Office to OUAC and OCAS. Only exceptions are…………marks from other Boards (other than HCDSB) or credits obtained through a private schools.
It is the student's responsibility to inform Student Services if they are planning on or taking a course outside of Corpus Christi.****
Important Facts about Post-Secondary Admission Requirements
1. Universities calculate admission average using a student's top six Grade 12 credits at the "M" or "U" level, including the programs' required courses. One credit must be ENG4U. You cannot use "O" level or "C" level credits to apply to university.
2. Colleges calculate admission average based on the program's required courses. This may be the average of one or more courses. One of these credits is usually ENG4C or ENG4U (very few colleges accept ENG4E). Some colleges do not accept Coop or Physical Education credits because they are at the open level. Check college websites to verify program requirements.
3. Many colleges have transfer agreements with universities. This is helpful for students who are not eligible to apply to university directly from high school. Visit www.ontransfer.ca for details.
University Application Information and Procedures
All Grade 12 Students planning on applying to an Ontario University next year must obtain their PINs. Student Services will notify you later as to how your PINs will be obtained. When you have your PIN, you are able to apply.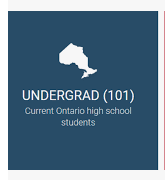 Summary of Fees
All fees are listed in Canadian dollars. These fees are based on last year's rates and are subject to change.
Base Application Fee: $150 for the initial three university/program choices.
Additional Choice Fee: $50/choice
For each university/program choice beyond the initial three (e.g., if two additional university choices are added, you must pay $100 in addition to the base application fee).
Note: You may apply to as many Ontario universities/programs as you wish; however, you are limited to a maximum of 3 program choices at any one university (including its affiliates). Some universities may further limit the number of programs you can apply to. Also please note that you will have to rank them in order of choice.
101 How to Apply
Step 1: Research Your University Selections
Check out university publications and university websites https://www.ouac.on.ca/
Visit ontariouniversitiesinfo.ca and the 101 application to browse programs online.
Record your program choices and their OUAC codes.
Make note of all admission requirements and program-specific deadlines.
Review the 101 Application Guide.
Attend the virtual fairs and tours
Step 2: Gather Information Needed to Apply
In October/November Student Services will inform you as to how to obtain your Application Access Code letters (PINs) that contain the information required to apply online:
School Number
Student Number
Temporary PIN
Narrow down your university program selections by talking to your parents/guardians, teachers and guidance counsellors about your interests and options.
Watch the instructional video on how to apply online.
Review the 101 Important Dates found on the ouac.on.ca website.
Step 3: Apply
Use the information in your Application Access Code Letter to log in to your online application. Note: The first time you log in you must change your temporary PIN to a personal password. Use your password (instead of your PIN) the next time you log in.
Complete all sections of the application.
Review your program selections before clicking "I Verify and Agree".
Submit your application, with payment, well before the 101 application deadline and any university program-specific deadlines.
Record the OUAC Reference Number you receive and keep it in a safe place. You will require this number, along with your password, for future access to your application, and to respond to university offers of admission.
Step 4: After Applying
After one business day, log in to your online application to verify the details. Review and make any necessary changes.
Ensure spam filters are set to accept email from the OUAC and the universities you applied to. Email is the primary mode of communication for the universities and the OUAC.
The universities will acknowledge that they received your application.
After you receive your report card, log in to verify your grades information. Notify your guidance office of any necessary corrections.
Visit a university. University open houses and campus visits are great ways to experience first-hand what campus life is like and help you decide which university is the best fit for you. Most of these are virtual this year.
Expect to receive either an offer of admission or a refusal from the universities you applied to by the end of May. Review the 101 Important Dates.
Ontario College Application Information and Procedure
When to Apply?
As long as space remains in an Ontario College program, you may apply for it. However, there are some important dates to keep in mind, especially for popular programs that fill up quickly.
Apply to college as soon as the online application becomes available in October. Complete and pay for your application on or before February 1 in order to receive equal consideration for admission to programs beginning the following September.
The following dates apply to programs starting in the fall of 2021. The application process at ontariocolleges.ca follows an annual cycle, based on the academic year (August to July). For programs beginning at other times of the year, please contact the individual colleges for more information about application processing dates.
Early October 2020: Online Application Opens
In early October, access to the online college application becomes available for programs beginning in the following academic year (August to July). You may create an account and begin your application.
February 1, 2021: Equal Consideration Date
Apply on or before this date in order to receive equal consideration for admission to programs starting the following fall. After this date, colleges consider applicants on a first-come, first-served basis until programs are full.
Note that applications to Highly Competitive Programs must be received by this date in order to be considered. As these programs receive a high volume of applicants, all seats may be filled by February 1.
Applicants are encouraged to complete their applications well before the Equal Consideration Date, as website volumes on the online application are at their highest at this time.
Many programs continue to accept applicants after February 1. Use our Find a Program tool at any time to find programs that are still open.
February 1, 2021: Earliest Offer Date
This is the earliest date that colleges may begin to send offers of admission to programs for the upcoming academic year. Offers will continue to be issued until programs are filled or wait-lists are established.
May 1, 2021: Deadline to Confirm Offers of Admission
Applicants must confirm their acceptance of an offer of admission by this date. Log in to your ontariocolleges.ca account to confirm your offer.
Colleges may extend offers of admission after this date. Each college will set the deadline to confirm offers made after May 1, and this deadline will be communicated to you with your offer.
June 2021: Tuition Deposit Due at the Colleges
The colleges require payment of a tuition deposit in June to secure your spot in your program. Each college sets its own tuition deposit amount and payment deadline. This information will be communicated to you by the college.
OCAS – Ontario College Application Services
Apply on or before February 1, 2021 in order to receive equal consideration for admission to programs starting the following fall. After this date, colleges consider applicants on a first-come, first-served basis until programs are full.
If you have never applied through ontariocolleges.ca before, click the "Apply" link to get started. Your ontariocolleges.ca account allows you to
Important Info Before You Apply
The application processing fee is $95.00 (non-refundable and subject to change).
An application allows you up to 5 program choices (no more than 3 at any one college).
All program choices must start within the same academic year (August-July).
Your username is permanent.
Your password must be between 8 and 14 characters in length.
Use a valid email address.
DO NOT create more than one account.
The application works best in certain web browsers.
How to Apply
Log in to your account.
Fill in your personal information and educational history.
Add your program choices.
Pay the application processing fee and any transcript fees.
Application is NOT complete until they receive payment.
Log back in to verify your transcript information, or to make changes or updates to your application.
Log back in after February 1 to view and confirm offers of admission.
For a step-by-step tour of the secure online application, download the user guide: https://www.ontariocolleges.ca/en/apply
Important Dates
October: Applications become available for programs starting the following fall.
February 1: Equal Consideration Date – apply to highly competitive programs on or before this date.
February 1: Colleges may begin sending offers of admission.
May 1: Deadline to confirm offers (colleges may extend offers after this date).
Mid-June: Tuition deposit payment due.
See the Important Dates page for more information.
Trades and Apprenticeship Programs
Thinking about a skilled trade?
A skilled trade is a career path that requires hands-on work and specialty knowledge. Skilled trades workers build and maintain infrastructure like our homes, schools, hospitals, roads, farms and parks. They keep industries running and perform many services we rely on every day, like hairstyling, food preparation or social services.
Benefits of a career in the skilled trades include:
in-demand jobs and great earning potential
using cutting-edge technology
being paid while you learn on-the-job
many paths to advance
transferable skills
Information can be found on the following websites.
http://www.centreforskills.ca/
https://www.ymcahbb.ca/Programs/Employment-Services/Youth-Job-Connection
Applying to Universities (Out of Province)
Students interested in applying to a university out of province must apply directly to the school that they are interested in. Application forms can be found directly on the school website. The OUAC assists the following out-of-province institutions in collecting academic data for Ontario secondary school students who have applied through the OUAC:
Acadia University
Bishop's University
The University of British Columbia
The University of Calgary
Concordia University
Dalhousie University
McGill University
The University of New Brunswick
Saint Mary's University
Simon Fraser University
The University of Victoria
Students who complete an application form for these out-of-province universities can provide authorization for a university to request their academic information from the OUAC. To provide authorization, the applicant must include their 11-digit OUAC Reference Number on the institution's application form.
Note: In all cases, the eleventh digit should be "0". This automated transfer of academic data greatly reduces the workload in secondary schools by eliminating the need to prepare and mail hardcopy transcripts.
Applying to US Colleges
Applying to study in the US?
Since 2011, the ACT test has been the most widely taken college and university entrance exam in the United States, and is accepted by all 4-year colleges and universities in the US. Since 2010, the number of US students taking the ACT increased 17.7%, and it now enjoys 57% of the market share. See below for the year-by-year specifics.
Why should this matter to you?
You need to have testing options. Making decisions based on outdated data could jeopardize your future. Each test has its own unique characteristics and you can choose the one that's best for you. Scroll down the page for registration details on the ACT test!
The Common Application
You may be asked to also complete the Common Application. This application is a not-for-profit membership organization that, since its founding over 35 years ago, has been committed to providing reliable services that promote equity, access, and integrity in the college application process. They serve students, member institutions, and secondary schools by providing applications that students and school officials may submit to any of their over 500 members. Membership is open to colleges and universities that promote access by evaluating students using a holistic selection process. Parents may access the Common App site using the link below:

For registration please make sure you visit: https://uscollegeexpo.com/toronto-roy-thomson-hall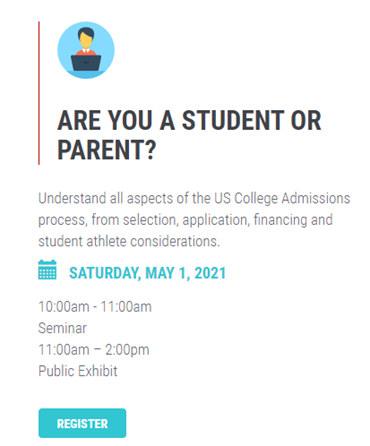 This year the USexpo is taking place in Toronto @ Roy Thompson Hall on April 30 and May 1, 2021
Canada's unique, once a year US College Expo exclusively featuring American Colleges and Universities! Meet US College Representatives, Explore US College Options, Understand all aspects of the US Admissions process, from selection, application, financing and student athlete considerations.US COLLEGE EXPO CANADA
More information can be found at USCOLLEGEEXPO.COM
NCAA Rules and Regulations for Ontario Athletes
The NCAA has strict rules for applying. The links below provide parents and students with the Eligibility Requirements to apply.
AT and ACT Information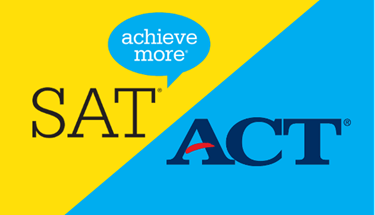 The SAT and SAT Subject Tests are designed to assess your academic readiness for college. These exams provide a path to opportunities, financial support, and scholarships, in a way that's fair to all students. The SAT and SAT Subject Tests keep pace with what colleges are looking for today, measuring the skills required for success in the 21st century.
Click the link below for more details: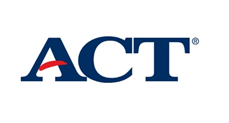 ACT Test Information
The ACT is an achievement test, measuring what a student has learned in school. The SAT is more of an aptitude test, testing reasoning and verbal abilities. The ACT has up to 5 components: English, Mathematics, Reading, Science, and an optional Writing Test.
The College Board introduced a new version of the SAT in 2005, with a mandatory writing test. ACT continues to offer its well-established test, plus an optional writing test. You take the ACT Writing Test only if required or requested by the college(s) you're applying to.
The SAT penalizes you for wrong answers, so guessing is discouraged. The ACT is scored based on the number of correct answers with no penalty for guessing.
The ACT has an Interest Inventory that allows students to evaluate their interests in various career options.
OSAP
Ontario Student Assistance Program
https://www.ontario.ca/page/learn-about-osap
What is OSAP?
The Ontario Student Assistance Program (OSAP) is a financial aid program that can help you pay for college or university.
OSAP offers funding through:
Grants: money you don't have to pay back
A Student Loan: money that you need to repay once you're done school
When you apply for OSAP, you will automatically be considered for both grants and loans. If you do not want to take a loan, you can decline it after your application is approved.
What OSAP can help with?
OSAP can help you pay for:
Tuition
Books, equipment and supplies
Compulsory student fees charged by a school
Living expenses (full-time students only)
Child care (for students with children)
How to get OSAP
Apply for money that can help you pay for a college or university education. Click below for more information on the application process for OSAP.
Applying to College and OSAP combined
In partnership with the Ontario Student Assistance Program (OSAP), we are pleased to announce the launch of a new feature that simplifies the OSAP application process for our college applicants.
Helpful Resources
Financial Aid / Awards & Scholarships
University Campus Tours
Below is a list of links to virtual tours and open house information to several of the Ontario Universities. Please note these are not all the available links for each university. This is just a sample.
U of T
Windsor
https://future.uwindsor.ca/campus-tours
York
https://futurestudents.yorku.ca/tours
Guelph
https://admission.uoguelph.ca/visit-u-g-virtually
Trent
https://www.trentu.ca/futurestudents/undergraduate/applicants/stay-connected/book-tour
OCAD
https://www2.ocadu.ca/keyword/campus-tour
Lakehead
https://www.lakeheadu.ca/admissions/campus-tours
Carleton
https://admissions.carleton.ca/carleton-university-virtual-experience/
Ottawa
https://www.uottawa.ca/undergraduate-admissions/campus-tours
Laurentian
Nipissing
https://www.nipissingu.ca/future-students/visit-us/open-house/virtual
RMC
Ontario Tech
https://ontariotechu.ca/virtualtour/
College Tours/Open Houses
College
Website
Sheridan
https://www.sheridancollege.ca/admissions/visit-sheridan/campus-virtual-tours
Mohawk
https://www.mohawkcollege.ca/open-house-at-mohawk
Humber
https://humber.ca/future-students/tours-events.html
George Brown
https://www.georgebrown.ca/why-george-brown/learn-more https://www.georgebrown.ca/why-george-brown/learn-more/campus-tours
Niagara
https://www.niagaracollege.ca/visit/
Seneca
https://www.senecacollege.ca/visitus/campus-tours.html
Fanshawe
https://www.fanshawec.ca/about-fanshawe/contact/connect-us https://www.fanshawec.ca/about-fanshawe/contact-us/open-house-0
Conestoga
https://www.conestogac.on.ca/visit-us/open-house
Centennial
https://www.centennialcollege.ca/visit-us/
Georgian
Post Secondary Information